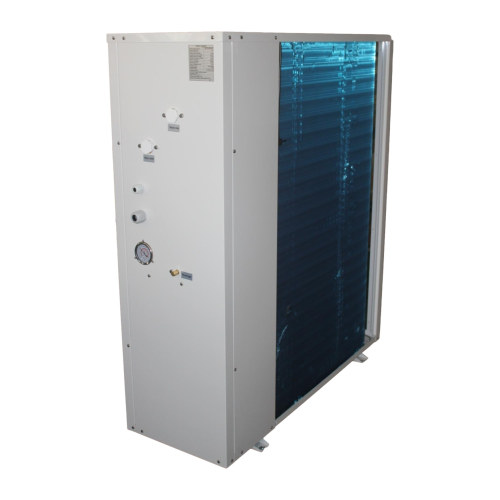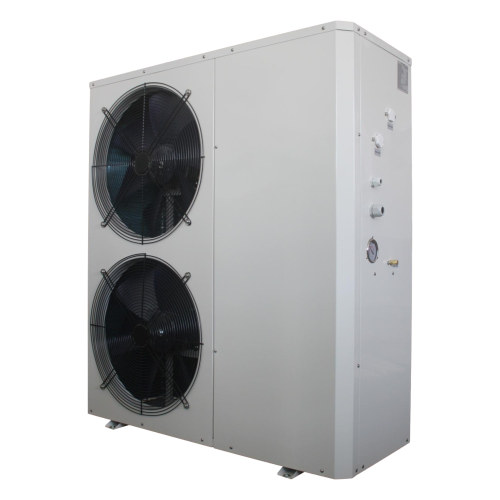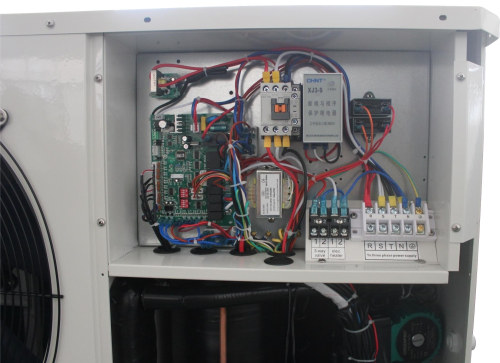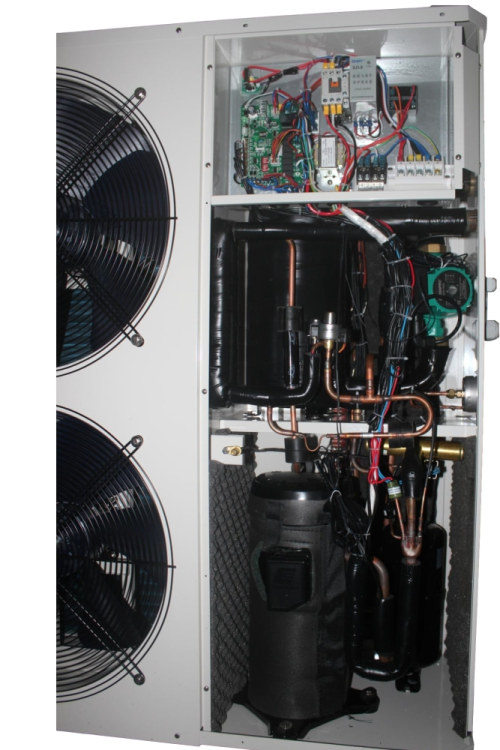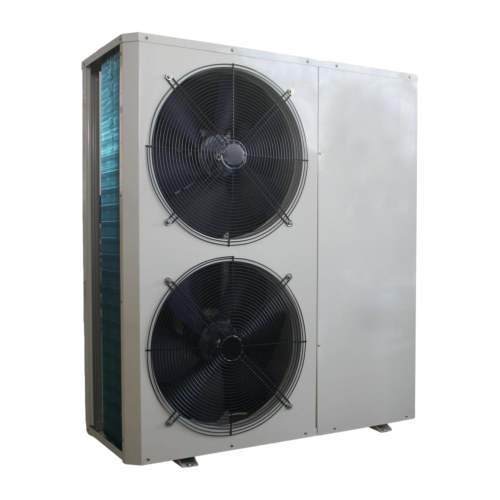 380V 20KW EVI Monobloc Heat Pumps(SHAW-20EVIM)
Item specifics
Net dimensions

1110*460*1250(mm)
Packing dimensions

1180*530*1395(mm)
Power supply

380V/3PH/50Hz
Air flow

6500m³/h
Fan rated power

90W*2
Water pressure drop

29Kpa
Description
1. Heating and hot water modes.
2. Heating capacity 11kw, 12kw, 16kw, 18kw, 20kw, 34kw, 40kw.
3. Work at down to -25DegC.
4. Electronic expansion valve for main circuit and EVI circuit.
5. Receives ON/OFF signal from thermostat, master controller, smart grilletc to save more energy.
6. Heating curves for more comfortable temperature and more energy-saving.
8. Copeland scroll EVI compressor.
9. With compressor heater.
10. With bottom plate heater.
11. With 3kw back-up electric heater.
12. With energy class A circulating pump.
13. With control for 3-way valve to switch between heating circuit and hotwater circuit.
14. With water flow switch.
15. We offer OEM service including back-up heater, circulating pump, casingdesign, painting color etc.
Model

 

SHAW-16EVIM

SHAW-18EVIM

SHAW-20EVIM

Power supply

/

220V/1PH/50Hz

380V/3PH/50Hz

380V/3PH/50Hz

Refrigerant

/

R407C

R407C

R407C

Heating capacity 1

KW

15.5

17.9

20.9

Heating power input 1

KW

3.48

4.03

4.76

COP 1

/

4.45

4.44

4.39

Heating capacity 2

KW

11.9

13.4

15.6

Heating power input 2

KW

3.69

4.18

4.89

COP 2

/

3.22

3.21

3.19

Heating capacity 3

KW

8.9

10.2

11.9

Heating power input 3

KW

3.60

4.16

4.94

COP 3

/

2.47

2.45

2.41

Heating capacity 4

KW

7.7

9.0

10.5

Heating power input 4

KW

3.55

4.11

4.87

COP 4

/

2.17

2.19

2.16

Heating capacity 5

KW

13.10

15.10

17.60

Heating power input 5

KW

5.46

6.29

7.39

COP 5

/

2.40

2.40

2.38

Max. water temperature

℃

60

60

60

Rated water temperature

℃

55

55

55

Water flow

m3/h

2.40

3.10

3.60

Condenser

 

tube-in-shell

tube-in-shell

tube-in-shell

Water pressure drop

Kpa

27

28

29

Water connections

Inch

1

1

1

Built-in water flow switch

 

paddle type

paddle type

paddle type

Built-in water pump

 

NO

NO

NO

Built-in electric heater

 

NO

NO

NO

Built-in auto air vent

 

NO

NO

NO

Built-in water expansion vessel

 

NO

NO

NO

Compressor

Brand

Copeland (EVI)

Copeland (EVI)

Copeland (EVI)

Quantity

1

1

1

Type of defrosting

/

Reverse circulation

Reverse circulation

Reverse circulation

Fan quantity

 

2

2

 

Air flow

m3/h

6500

6500

6500

Fan rated power

W

90*2

90*2

90*2

Noise

dB(A)

55

55

55

Net weight

kg

143

150

150

Gross weight

kg

158

165

165

Net dimensions

mm

1110*460*1250

1110*460*1250

1110*460*1250

Packing dimensions

mm

1180*530*1395

1180*530*1395

1180*530*1395
1. Unit working temperature : -25℃ to 43℃
1)Test condition: ambient temp: 7℃/6℃, water inlet/outlet: 30℃/35℃
2) Test condition: ambient temp: -2℃/-1℃, water inlet/outlet: 30℃/35℃
3)Test condition: ambient temp: -15℃/-℃, water inlet/outlet: 30℃/35℃
4)Test condition: ambient temp: -20℃/-℃, water inlet/outlet: 30℃
5)Test condition: ambient temp: 7℃/6℃, water inlet: 58℃